THE

GROUP
About Us
Who we are
News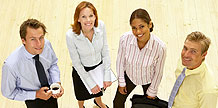 What we do
We perform the most discreet and thorough investigations in our industry. We strive to be the best at all of our investigations. We provide in depth discovery for all of your liability and financial exposure.
Report directly to jail
december 2013
After working with the Division of Insurance Fraud and local law enforcement agencies on one of our cases, the perpetrator turned himself in to Palm Beach County Jail this month. While we have assisted in the convictions of ringleaders and organizations in the past, this is the first individual charged on a single claim that has faced formal charges.
Who we are
The Vanguard Group was begun in 1996 by John Culpepper. Mr. Culpepper has backgrounds in international business, pre law and computer programming as well as being an accomplished helicopter pilot
Why do we do it
Quite simply, we are good at what we do. We enjoy working in an area where crimes occur yet law enforcement seldom gets involved. We are the company you can rely on.

Globex © 2013 | Privacy policy